Halloween is right around the corner. Are you ready? Is you shop ready for the Halloween customers who will be searching for a variety of products to make their celebration a little more scary?
While the popular products from last year for Halloween were Costumes, Make Up and Hard Décor (lights, candles, yard décor) there is always room for printables. So get ready to make a list of what you can sell for Halloween in your shop.
Repurpose
Do you have products in your shop that you can repurpose with a skeleton or bat? How about stationery or planners? Look at the products you have and instead of creating a whole new product, copy the product and change some of the clip art/ images to make it more appropriate to Halloween.
Do you have puzzles of any kind or mazes? These would be perfect to repurpose for holidays. You can make multiple puzzles without any images or clip art. Once the puzzles are created, then customize for different holidays. These are especially valuable to use in kids activity packs for different holidays.
Or create shapes in PowerPoint and fill with coloring papers you already have. In these images, I like to keep the outline a little thicker so there is more contrast between the image and background. And I left the bats in solid black because to fill them would make it difficult to color and because it is small, distracting.
Party Decorations
Invitations and Placemats can be created with a spooky theme for the holiday. You can create invitations in Corjl to be personalized by the customer (SEE THAT BLOG POST HERE) or create generic invitations that the customer can write the details on the back.
Placemats can be created to add to the theme. For more fun, make them with riddles or puzzles on them. This would be especially great for kids The two standard sizes of placemats are 12 inches by 18 inches or 14 inches by 20 inches. Although to enable home printing, you can adjust the size to 8.5 x 14. These are less a place setting background and more a fun activity for kids and adults at the table.
Halloween Scrapbook Pages
Make ready to use pages for Halloween. These "quick" pages have space for photos, decorations and labels. Labels can be editable or you can include Word Art so customers can add titles. Scrapbook pages are usually 8.5 x 11, A4 or 12 x 12 depending on your customer.
Halloween Stickers
You can create different stickers in Canva or PowerPoint and sell as a bundle. Stickers with sayings, images or just color work well.
Cards and Tags
Cards can be created in a variety of ways. Use PowerPoint, Canva or Corjl. These can be foldable cards in a 4×6 or 5×7 sizes or use a two sided card with a place for a photo and greeting on the back.
Or create gift tags for those treats you will be bringing to the Halloween party, gifts for teachers and neighbors.
Wall Art
Wall art is always popular. Think simple images that customers can place in groups. You can sell singly or in bundles. I notice when selling wall art, offering multiple sizes is a great option. The most popular sizes are 5 x 7, 8 x 10, 12 x 16, 16 x 24 inch.
These are all in inches, and for some more intricate images, larger sizes are offered. However, I do not think customers looking for quick seasonal wall art would be drawn to a 16 x 24 or 24 x 30 inch size.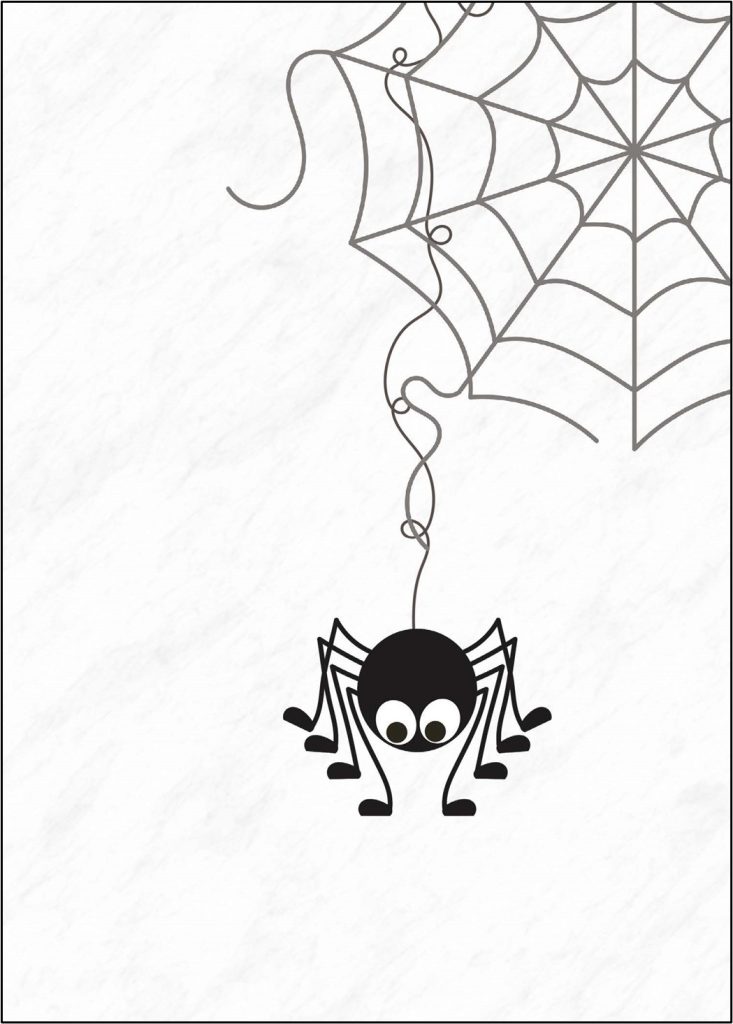 Games and Puzzles
Halloween themed activity books are a good choice to keep kids busy both before, during and after the holiday. Include coloring images, mazes, word searches, sudoku, and riddles.
Party games are popular for both home and classroom. Most school classrooms have some kind of event for Halloween, and games such as trivia, word games and scavenger hunts work well.
You can also add card games or twists on cards games. How about a Halloween version of Old Maid? The witch would be the old maid of course.
Keep in mind your age range and perhaps offer different games for different age groups. Elementary aged kids are very different from middle school kids and will have very different interests.
But one type of game is universal to all age groups, and that is Bingo. I make my bingo cards (and many of my puzzles) using the program Puzzle Maker Pro from Book Publisher Tools. There are also online bingo card generators, but some of them are not clear on their licensing.
I hope you have some ideas and get to work for products you can sell this season. Note: if you market your products on Pinterest, get those pins promoting your products now so they have time to gain some traction.