Digital clutter can be just as hard to deal with as physical clutter and organizing is just as difficult. Actually, I think it is worse. You can see physical clutter and are reminded about it daily. Seeing it almost prompts you to make some improvement.
But digital clutter hides in folders and sometimes gets buried in places you don't see. It is sneaky clutter and possibly it doesn't even create a problem until you notice your computer is running really slow. Or perhaps you need a file you downloaded in a bundle last month and realize that there are hundreds (or thousands) of files and can't find the one you want.
But digital clutter in some respects is easier to deal with that physical clutter and takes less energy to dispose of. I don't have to call Junk King to haul stuff away, don't have to box anything up, don't need to drive unwanted things anywhere or even call a charity to pick up used items.
With digital clutter you can just get rid of it. If only it were that easy, lol. But there are strategies for cleaning it up, organizing it and developing a way to find what you need.
Here are 11 tips for organizing your digital files and overcoming the mess:
Organizing by Creating Folders and Subfolders
1. Create folders and subfolders for your digital files. This will help you stay organized and find what you need quickly.
When you download something, use a system that is personal. I have folders marked "Today", "This Week" and "This Month". Things that I need to look today go in this folder and are reviewed and cleared out (or refiled) at the end of the day. I used to have folders named Sunday thru Saturday and would file stuff that way but never cleared out Sunday so the next week, I was just adding and never reviewing.
The files in "This Week" are reviewed at the end of each week (for me that is Saturday night). Files that go there are downloads from bundles (also logged on a Trello board) as well as any PLR that I have purchased, or am in the process of repurposing.
The files in "This Month" are typically long term projects, projects that need to be completed for the following quarter or holiday projects. They get reviewed on a regular basis but especially at the end of the month.
Organizing by Labeling Folders
2. Use a file naming system that makes sense to you. Make sure the filenames are easy to understand and remember.
I have favorite sellers and keep all purchases in a folder with their name. For example, Sue's Simple Templates are named just that. I use them on a regular basis and I know if I am looking for a specific template, they are in that folder. Products from the Kitchen Sink go in a separate folder, including the replays of workshops. See Sue's Simple Templates HERE.
I have folders for bundles as well. Any products from that bundle go in that folder. This is useful for a few reasons. I will know exactly which product came from each bundle. And in the future, if I am participating in a bundle I can look back and see the products that were popular.
Need a checklist so you can check off your organizing efforts? CLICK HERE
Delete Files
3. Delete files that you no longer need. This will free up space on your computer and make it easier to find the files you do need.
This is a scary tip, because the minute you delete a file you will surely need it desperately. So I rarely delete things. However, I do back up files on a 14T drive once a month to keep my laptop from becoming too full which affects speed and performance.
The files are there if I need them, and if I don't–well, eventually they will be deleted.
Home organizers say this about clothing. If you haven't worn it in a year but don't want to get rid of it, put in a box and write the date on the lid. A year from now if you haven't used anything in the box, toss it without looking.
I have a file on my back up drive labeled with the date of files I have not used. Note: I haven't actually deleted anything yet and I never delete any product files that are active on my websites.
Backup Files
4. Use a cloud storage service like Dropbox or iCloud to store your files online. This will allow you to access them from any device, anywhere in the world.
I have used iCloud and I did not like it. Yes, it was inexpensive, but it took files forever to back up. It would take 15 hours to back up one file while my 14T drive can back up 50G in about 1 hour.
I do use dropbox to back up products for both my website and ETSY. I have also have used Amazon's AWS3 to store files. I try to keep like files in one place so it isn't a question of remembering where I stored something. I backup source files for my teaching products in my google drive. I rarely need the source files, but when I update products I use the source files to make it easier.
Desktop Wallpaper
5. Use a desktop organizer to keep your computer desktop tidy and organize your screen. This will make it easier to find the files you need and save space on your screen.
I use desktop wallpaper to keep files organized. I makes my desktop functional as well as fun and colorful. I also use wallpapers for holidays. Halloween has cute sayings that cheer me up and Thanksgiving has sayings about gratitude. I also have one for Halloween that cheers me.
Color Code Folders
6. Use colors to categorize your digital files. This will make it easier to find what you're looking for when you need it. For example: Green files are for products, blue files for templates and Pink files need to be backed up.
You can change the folder by highlighting the folder, right clicking and choose properties. Then choose customize to change the icon. You can use a colored folder, a picture or one of the many icons that come with your system.
You could color code folders for different bundles you want to participate in, or in bundles you have downloaded so you can find them easier. Or Color Code folders for each day of the week and then tell yourself if today if Monday, you need to work on the Blue Folder.
Use Apps to Clear Temporary Files
7. Use an app like CCleaner to clean up your computer's hard drive and get rid of temporary files. This will free up space on your computer and make it run faster. I use this weekly. It will also identify any malware on your computer and isolates it.
I have tried using Chrome to clear files and cookies but deletes a little too much. Sometimes my access to online accounts is also cleared and I have to reset my passwords.
Review and File Emails
8. Create a system for reviewing and deleting old emails. This will help you keep your email inbox organized and tidy. I do not have unread emails in my inbox–that really makes me anxious. I only keep those that need to be reviewed when I have more time.
Each day as emails come in, I skim and if I want to read them later I keep them in my inbox. Other emails are quickly filed or sent to trash. I have a number of labels for my email: Blogging, Receipts, Affiliates, College, Bundles, etc.
If I sign up for a course and receive instructions on how to access, I add the link to Symbaloo (more about that below) and put the email in receipts. Anything I buy goes into receipts. This makes it easier during tax time.
I also save emails that have "ideas" in them. Recently I got an email that had a quiz in it to engage readers. I thought this was a great idea so I saved it to use this idea later.
Every few months I go thru the saved emails and delete any that are not important any longer. It seems easier to delete emails than other types of digital dust.
Use a Task Management System
9. Use a task management program like Asana, Airtable, Trello or Todoist to keep track of your to-do lists and projects. This will help you stay organized and avoid creating digital clutter. You can plan out your content marketing for the year and list the file names and folders that have the materials you need.
Trello
10. Use Trello to create a board for each of your projects. This will help you stay organized and keep track of your progress. If you have never tried trello, here is a link to get started: TRELLO LINK . You do NOT need to pay for Trello, you can use the free version. I have used it for 8 years now and never paid anything.
I use Trello to keep track of Bundles I am participating in, Blog Posts to work on, Affiliates and bonuses that I add to Affiliate products. I create a template card of information to be kept and then duplicate the template card for each card that is added. This saves me remembering dates, links, people, etc.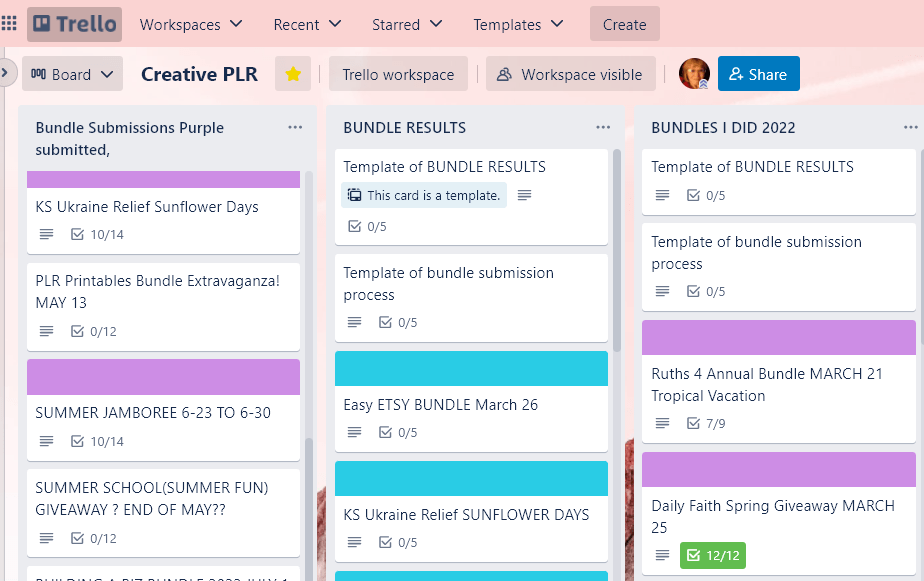 You can also create a board for your content creation. Need to plan your products ahead for holidays? Or just list some ideas for products. This is better than paper because it cannot get lost. And you can add unlimited ideas and not run out of space.
Use Trello to keep track of blog posts with their links, YouTube videos with links and other links that you want to use easily. So much time is saved by having all the links readily available instead of having to look for them. I can send them out in emails or use them in social media posts in seconds instead of spending time looking for the links.
I recently started a trello board for course purchases by month so I don't forget them, bundle downloads with links. I had someone ask me why I need both Symbaloo and Trello and the answer is simple. Symbaloo (below) will store 1 link per tile. So if you wanted a link to a website, that works great. But if you want a link to a website, with additional links on that website to different courses, information about the courses, ideas to use the course, then Trello is your answer.
Symbaloo
11. Use Symbaloo to keep links you use on a regular basis (or even irregular basis). I have mixed feelings about Symbaloo. I have been using it for about 10 years and until recently it was free. Now it costs a small amount to use it. I toyed with the idea of deleting my account on principal but because I have so much information on it, I kept it. It does save me time and energy. Think about all the links you use daily and how much easier it is to have all of them in one central location.
Symbaloo uses tiles. On the tab above, each of the tiles represents a course or training. When you click the tile, it takes you to the log in of the training. When I get access to a training I copy the link and add a tile. I am careful to edit the name of the tile so I know what each one it.
I also have a tab with all my banking information, credit cards, utilities and insurance information. I don't have to look for the original information to access courses, it is all saved. And it is saved in the cloud, so I can log in from another computer and still access the information.
I hope these tips have been helpful. Looking for some more tips on productivity? Check out this blog post: DEALING WITH DAILY DISTRACTIONS