With warmer temperatures and a new season upon us, creating spring printable products is a top priority. Think bright colors, vintage looking items, and items that connect us to the outdoors.
Did you know that there has been an increased search in items for outdoor areas like porches and patios? And increased searches for printable birthday cards, nature inspired prints and birthday party them ideas for décor. There are so many options for spring printable products for the variety of holidays as well as gardening season.
Check out the ETSY Trends for Spring. It has some dates for the next few months so you can prepare for the holidays as well as some tips. And if you do not have an ETSY shop, use this info for any online shop. Here is also an article on .
Printable Product Ideas
Easter Activity Books
Kid's Activity books are popular all year round, but a holiday version is fun. Easter activity books for kids are a great way to keep them entertained. They are full of fun and engaging activities like puzzles, mazes, coloring pages, and crafts. Kids can learn about Easter traditions, practice their spelling and writing skills, and explore religious stories in the process. And you can create both printable products and digital products.
You can also make versions tailored to different ages, so that younger children can enjoy age-appropriate activities while older kids can work on more challenging ones. Activity books also make great gifts as they give families something to do together like scavenger hunts or bingo.
Mother's Day Printable Products
Mothers Day is a day to celebrate the amazing mothers in our lives. Popular Mothers Day printable products include greeting cards, memory books, digital or printable photo albums, family recipe books and chore coupons. You can personalize cards with photos of the mother and family.
Spring Cleaning Planners
Spring cleaning can seem like a daunting task. Many people find it helpful to break the process down into smaller steps using spring printable products to help with this process is a great idea. Try cleaning planners or checklists. This allows people to tackle one chore at a time, rather than becoming overwhelmed by the larger picture of everything that needs to be done.
Spring cleaning checklists typically include tasks such as dusting, vacuuming, polishing furniture, washing windows, and reorganizing closets. These lists may also include items that are done less frequently, such as deep-cleaning ovens and refrigerators, cleaning rugs and carpets, and rotating seasonal clothing items.
Or you can create a decluttering journal or workbook so people can get their house in order. You can either sell this as an entire planner, or a single sheet. And you could also incorporate an email challenge to help people clear the clutter.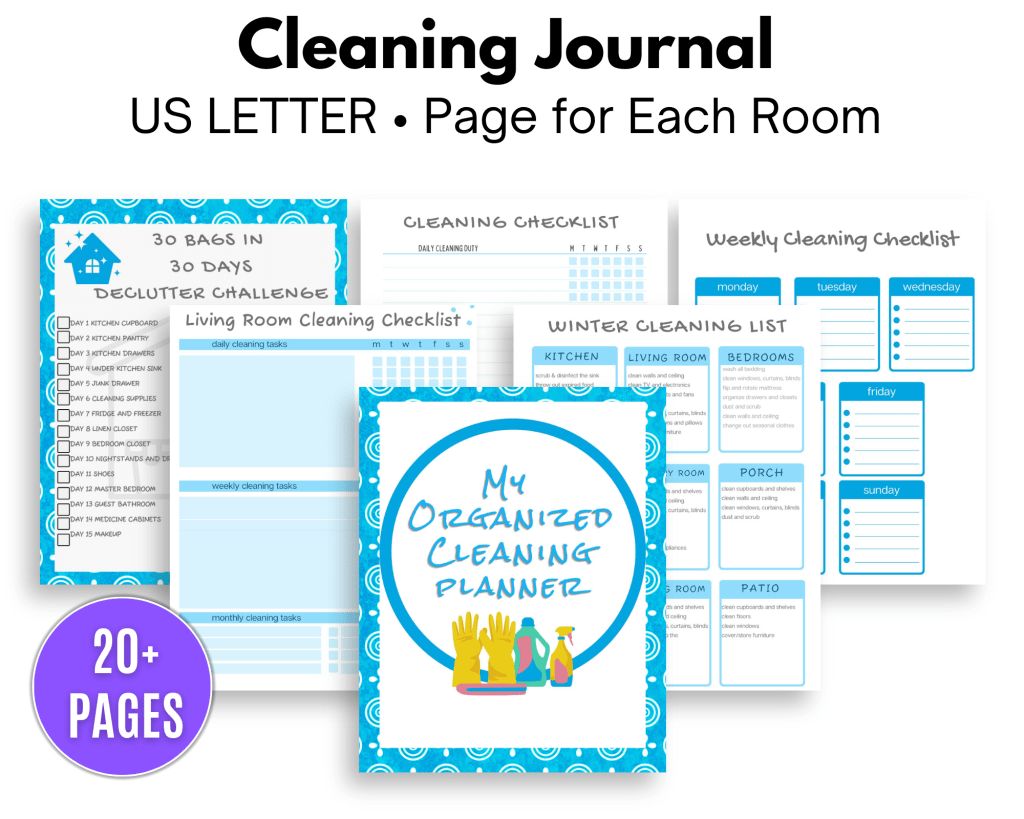 Checklists offer the satisfaction of crossing off each item as it is completed, so that homeowners can easily track their progress throughout the process. And you can sell individual pages, pages for spring decluttering or entire planners for cleaning.
Spring Gardening
Gardening planners can be an essential tool for keeping your outdoor space looking its best. These printable products can help you keep track of when you should be planting, fertilizing and pruning different plants and flowers, as well as reminding you to check the soil moisture regularly.
By using a garden planner, you can also plan to have a beautiful and bountiful garden all year round without needing to remember all the information by yourself. The gardening planner is more than just a schedule of when-to-do tasks. It provides information about what was planted for future planning.
With knowledge, gardeners can make informed decisions about how to approach their gardening projects. Gardening planners record information about varietys to try, and keep track of harvests.
Greeting Cards and Party Decor
Cards are always in style but with Easter, Mother's Day, Father's Day and Cinco de Mayo spring printable products must include cards for several occasions. Personalized greeting cards are popular. Because they can not only include names but photos as well. Corjl is a popular site for creating personalized cards and invitations. Read more about selling editable products at this blog post CREATING EDITABLE PRODUCTS WITH CORJL.
Printable banners are popular. Essentially banners are just large triangles (or other shape) that can fit on a page to be printed. You can create themed versions and you can create black and white versions that can be colored by kids. Or create versions where the buyer can add photos.
Wall Art
Wall art is always popular. For spring, think outdoors and nature and add word art that can inspire. And don't forget Easter Graphics: baskets, chicks and bunnies.
If you create wall art, offer several sizes. It take no more effort to offer additional sizes and may increase sales. Popular sizes include 5 x 6, 8 x 10, 10 x 12, 12 x 16, 9 x 12, 16 x 20 and 18 x 24. No, customers cannot print the larger sizes on home printers, but they can have them professionally printed at stores or online. Check out this previous blog post on CREATING WALL ART for inspiration.
What will you create this Spring? There are so many options that you just need to get started and use keyword research to find products that people are searching for.